Budget Danube Boat Tour in Budapest
Enjoy a sightseeing Danube Boat Tour on a shoestring budget in Budapest: pick any day of the year for a €9 evening unguided Danube cruise, currently the cheapest available Budapest river cruise among the Danube city cruises. Enjoy sightseeing on the Danube with a drink in your hand (the tour is without a commentary), take photos of the Danube attractions and UNESCO sights. Normally all cruises run at full house, early reservation recommended if you wish to secure a discount e-ticket for the most affordable Danube tour.
What you Get in the Danube Tour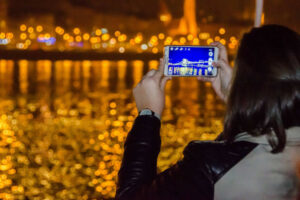 1 hour Budapest Danube Boat Tour
1 Welcome Drink
Ship Bar (Drinks, Snacks) pay as you order
Print Free E-Ticket
Amazing Views of Budapest
Note: No Guide Included
Dock off city centre
Dock Location of Budapest Budget Danube Boat Tour
Dock near the Margaret Island (as seen on ticket), mostly  Dock 42, also known as Szent Istvan Park Pier. If you are looking for a Budget Danube Tour in the city centre please check this option:
Booking & Schedule of Budapest Budget Danube Boat Tour
You can click on any day in the calendar to see the available cruise hours for a given date. The boat is scheduled for every evening of the year, except Dec 24 Christmas Eve when special Christmas Eve Budapest Cruises are available.
Budapest Budget Danube Boat Tour Schedule by Days
Please note that the following hours may not all be available on a given day. Please always check the booking calendar for available hours and make a reservation ahead of the cruise (almost all cruise hours get booked up as this is the cheapest Danube cruise in Budapest, very popular among tourists who wish to save with discount prices).
Monday: 17:20, 18:00, 18:40, 19:20, 20:00, 20:40
Tuesday: 17:20, 18:00, 18:40, 19:20, 20:00, 20:40
Wednesday: 17:20, 18:00, 18:40, 19:20, 20:00, 20:40
Thursday: 17:20, 18:00, 18:40, 19:20, 20:00, 20:40
Friday: 17:00, 17:20, 18:20, 18:40, 19:40, 20:00, 21:00, 21:20, 22:15
Saturday: 15:40, 17:00, 17:20, 18:20, 18:40, 19:40, 20:00, 21:00, 21:20, 22:15
Sunday: 17:00, 17:20, 18:20, 18:40, 19:40, 20:00, 21:00, 21:20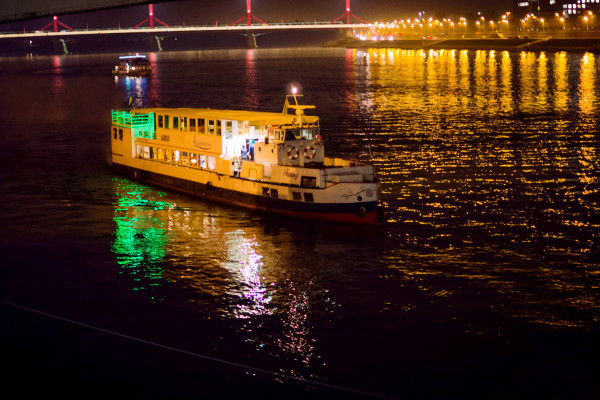 Budapest Danube Boat by the Hour
4.40pm Sat
5pm Fri, Sat, Sun
5.20pm Mon-Sun
6pm Mon-Thu
6.20pm Fri-Sun
6.40pm Mon-Sun
7.20pm Mon-Thu
7.40pm Fri-Sun
8pm mon-Sun
8.40pm Mon-Thu
9pm Fri-Sun
9.20pm Fri-Sun
10.15pm Fri, Sat
Terms and Conditions of Budget Danube Boat Tour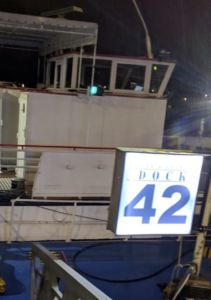 By purchasing your Budapest Danube Budget Boat Tour ticket you accept the Terms and Conditions
Late comers
The boat follows a strict schedule and is not waiting for late comers. The tour starts at the time as indicated on your ticket, the schedule is kept sharp. Please arrive at least 10 minutes before the Danube Tour and wait at the dock (not on the flying bridge). If you are late, there is no refund. Also, if you arrive late at the dock, there is no option to reschedule your ticket for another cruise (that ticket is lost), but you may buy a new ticket on the spot (if there are seats left)
Cancellation Policy
You might cancel the booking up to 24h before the Budapest Danube Budget Boat Boat. Within 24 hours no cancellations are accepted.
Reviews and Ratings of Danube Budget Tour
The Budapest Budget Danube Tour is currently on the top ratings of Getyourguide or Viator / Tripadvisor. Some visitors did not like that the location of the dock is slightly off the city centre.