Icy River Danube in Budapest Hungary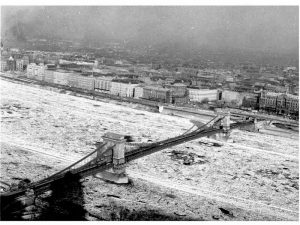 Although ice-floats appear on the Danube every year, those times when the river froze completely and people were able to cross the thick ice plate on foot are gone. Since the river is regulated and the riverbed is deeper it's less likely to happen again. Enjoy the riverside attractions from the comfortable Budapest River Cruises, you can cruise on the Danube at day or at night.
The frozen river was known for Hungarians from the history, Corvin Matthias was coronated on the Danube Ice, there were important battles, the thick ice has helped armies to cross the river and spare time and effort.
The ice floats were threatening for the riverside settlements and towns as the massive ice could cause serious damages. One of the most known disasters was the
Great Flood in 1838
when several people died and more than 50.000 became homeless.
Nowadays the icy river means a rare attraction, oftentimes photographed but it does not mean danger for Budapest any longer. The winter of 1963 was the last time when the Danube in Budapest was completely frozen.