Liberty bridge is connecting Fovam Square with Gellert Square and is probably the most popular bridge in Hungary. Liberty bridge is the third oldest and also the smallest bridge in Budapest, only 333 meters long and 20 meters wide.
After the two older bridges have increased the revenues, according to the law, a third bridge had to be built.
The Ministry of Commerce has issued an international tender for the bridge. There were domestic but mainly foreign aspirants and finally, a Hungarian gentleman became the lucky one, the engineer Janos Feketehazy. The architecture has been designed by Virgil Nagy and the construction began according to Feketehazy's and Nagy's plans in 1894.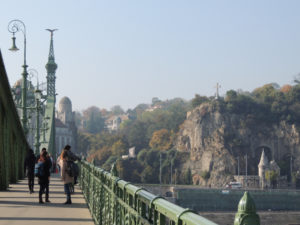 The bridge rests on just two large pillars and at the time it was considered as a technical marvel.
Liberty bridge has a graceful shape and beautiful decorations, the four spires are finished with statues of the legendary Turul bird, the Hungarian mythical hawk, the Hungarian Crown, and
Parisian-style lampposts on either side. Liberty Bridge was first painted green and originally named Ferenc Jozsef Bridge (after Emperor Franz Joseph), who has personally fitted the last silver nugget into the bridge at the inauguration on October 4, 1896.
The beautiful and aesthetic bridge has suffered barbarism in the World War II, when the retreating German army detonated it in January 1945. A few weeks later a raft bridge was constructed and the city has started to repair the seriously damaged parts of Liberty Bridge.
Nowadays Liberty bridge is a popular tourist attraction and beloved spots for the locals, a unique venue for concerts and other happenings for spring/ summer weekends (Liberty Bridge Takeovers).
Admire the riverside attractions and have a nice lunch on one of our Lunch Cruises in Budapest.